About us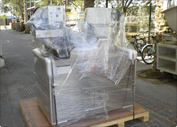 Welcome to the hefty world of Arabian Importers and Exporters FZC.Since our establishment as a trading and manufacturing in the year 2005 at SAIF ZONE SHARJAH UAE, We have been ardently engaged in the manufacture and supply of superlative Switchgear Panel Packing, Commercial Plywood, Heavy Duty Wooden Pallets, Plywood Boxes, Wooden Crates, etc.Thegrandeur of Commercial plywood and wooden pallets manufactured by us is simply unequaled. Since we manufacture only optimum quality products, we are reckoned in the midst of some dependable plywood boxes manufacturers and suppliers, based in UAE.
Our team of carpenters can visit and take measurement as per specifications and make Plywood Boxes for switchgear panel packing, Wooden boxes, Pallets, etc accordingly. We make extra strong pallets to carry heavy items if required. Also we do sea worth packing & normal packing with Packing materials like bubble wrap, stretch film etc... with utmost care. We are also specialized in industrial and household items packing. For any further information, please do feel free to contact us in the following address. We are always in your service at all times.
Our consistency in satisfying the customers have lead us to be a leading pallet manufacturers and pacers in the UAE. We being experts in pallet manufacturing and packing ,we assure quality service without compromising to our valued customer. Responsiveness and consistency within our services helped us to grow in the market.
Factory is located in Sharjah Airport Free zone, and being close to the port also help our customers needs. We look forward to serve our customers and ensure our care & attention throughout our services.
Our Sister Concerns
Esteem Rubber Products,
a family owned business based in Changanacherry, Kottayam district, Kerala, India, is a manufacturer and exporter of excellent quality and environmentally sustainable rubber mats. We are committed to provide flooring and matting solutions for domestic, commercial and industrial application worldwide.
Always keen to reach out to the demands of the market, we started out with an investment in the plywood industry in 1990. Today, our enterprises,
Esteem Plywood Industries and MJ Plywood Industries
are one of the leading manufacturers, distributors and exporters of plywood.
Travancore Sales Corporation,
dealing in glass and plywood are in operation in Kottayam and another in Pathanamthitta district, to properly channelize the distribution of our products.
Travancore Glass World,
also in Kottayam, is another of our sister concern set up to capitalize the market for glass work widely used for residential and commercial furnishing.